International Polgraph Sales

Polygraph Investigative Services

is authorised to represent and sell the complete range of lie detectors aka polygraph instruments manufactured by Lafayette Instrument Company. Lafayette Instrument Company is the global leader in the manufacture and sale of lie detectors with a global polygraph market share of 85%. The company's lie detectors are preferred by lie detector experts from more than 80 countries using modern lie detection techniques.


CAUTION! The accuracy of the polygraph technique depends largely on the competency and experience of the examiner. There is no equipment capable of detecting lies, just like an x-ray machine does not detect broken bones. The polygraph examiner is the lie detector. Polygraph Investigative Services offers comprehensive training programmes which are a culmulation of more than 100 years of experience of government and private sector experts. Learn More

QUESTION:

Can I buy one of those

"DIY" Lie Detectors

available on the Internet and use it to conduct an accurate test on my staff or partner?





ANSWER:

If it for amusement purposes, go ahead. But if it for some serious stuff, you are strongly advised against it. It is like trying to carry out a surgical operation on your staff or partner. This is a job for the expert! From time to time, we get clients coming to our office to sort out the mess they have made after using such devices.



LAFAYETTE All in One LX5000 Polygraph System Kit
Model LX5000-SW


Lafayette LX5000 Computerised Wired / Wireless Polygraph System . This is the latest innovation from Lafayette Instrument incorporating wired system or wireless Bluetooth Technology modular system. Computerised Polygraph Kit includes a PLE, Seat Activity Sensor, Pneumographs, and an EDA Cable.






LAFAYETTE LX4000 Polygraph System without Computer
Model LX4000-SW


Lafayette LX4000 Computerised Polygraph System . This state-of-the-art polygraph instrument is probably the best selling computerised polygraph of its class. The LX4000 Computerised Polygraph System records, stores, and analyzes physiological changes during a polygraph examination. Whether you are a seasoned computer user or a beginner, our Windows integrated system software makes our computerised system completely user friendly. Includes Data Acquisition System only.




Export Licence

The U.S. Department of Commerce requires an export licence for any polygraph system shipment to certain countries. It is against U.S. law to ship a polygraph system to these countries without an export licence. Contact us for the required licence application form. This is a simple and standard procedure, and we will be happy to assist you in completing the forms and we will do the rest.


LIMESTONE Professional Polygraph Suite


The industry-leading true 8-channel system employs Limestone Technologies Inc.'s exclusive DataPac_USB™. The DataPac_USB records blood pressure, heart rate, upper and lower respiration, temperature, skin conductance (EDA) and and two countermeasure channels (piezo and pneumatic). As many as 10 channels can be displayed simultaneously, more than any other vendor. Polygraph Professional Suite is also unique in supporting the simultaneous display of both automatic and manual EDA channels.




Multi-Language Platform

Polygraph Professional Suite software supports a multi language platform. Available in Simplified Chinese Version. Very suitable for the China market. Made in Canada. No Export Licence Required. Special 2-week polygraph examiner training package is available.




7-Channel Computerised Polygraph System Incorporating EEG
Model TH-B Polygraph


The TH-B Polygraph 7-Channel Computerised Polygraph System is the most advanced and sophisticated polygraph system available. The TH-B Polygraph records EEG (Brainwaves), respiration (2 channels), EDA, Cardio, PLE and Activity Sensor. Chinese and English versions of the operating software are available. Made in China. No export licence is required for this equipment.

This is the world's first polygraph which incorporates the EEG channel, providing a cost-effective alternative to fixed installations costing hundreds of thousands of dollars. The EEG channel records the well known P300 brainwave response for use in the Brain Fingerprinting Technique invented by Dr Lawrence Farwell for lie detection.




Marcy Countermeasure Polygraph Chair
Model PT-108

The PT-108 is the world's first multi-system countermeasure polygraph chair and its sensitivity, effectiveness and flexibility far exceed its competitors. Using specially engineered and mounted concealed activity sensors in the left and right arm rests, seat and footrest, it is very rugged and yet extremely sensitive.. The 4 sensor inputs can be configured as 1, 2, or 3 separate outputs, depending on the user's preference and the auxiliary channels available on the polygraph instruments. All sensors and wirings are well concealed. The arm rest height is adjustable. It is compatible with most of the popular brands of analogue (conventional) and computerised polygraph instruments manufactured in US, Canada, China, including Lafayette (all conventional models, LX4000 and LX5000 Series), Limestone Professional Polygraph Suite, all China-made TH Polygraphs. PT-108 PVC upholstery is available in 3 colours, Biege, Black and Brown.

Manufactured by Polygraph Technology Asia based in Singapore, this countermeasure system is used by all the law enforcement agencies in Singapore and Brunei. It is the brainchild of Mr Lynn P Marcy, former President of the American Polygraph Association and Director of the American Institute of Polygraph Technology and Forensic Psychophysiology. Mr Marcy's experience in the polygraph field spans more than 50 years and his lectures on examinee countermeasure are well sought after by polygraph experts around the world.


Sample Polygraph Chart Featuring PT -108 Chair




| | |
| --- | --- |
| Special Offer Price | : USD $1,995.00 for complete system. |
| Warranty | : One Year Warranty Against Defective Parts |

Further product information on PT-108 Polygraph Countermeasure Chair are available on request from:
Polygraph Technology Asia,
151 Chin Swee Road, #03-33,
Manhattan House,
Singapore 169876,
Tel: (65) 6737 9117
Fax: (65) 6737 9115
Email: kfc@polygraphis.com

PT-108 Countermeasure Chair Interfaced with LX5000
User-Friendly Lafayette Computerised Polygraph Systems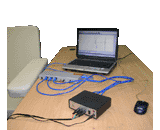 PT-108 Countermeasure Chair Interfaced with LX4000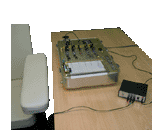 PT-108 Countermeasure Chair Interfaced with Lafayette Conventional Polygraph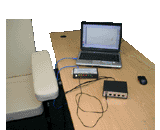 PT-108 Countermeasure Chair Interfaced with Limestone Polygraph Professional Suite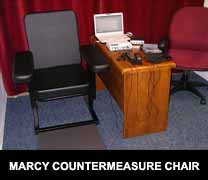 PT-108 Multi-system Countermeasure Chair